Teachers
Thaye Dorje, His Holiness the 17th Gyalwa Karmapa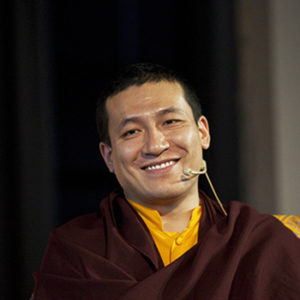 From childhood in Tibet to travelling the globe as a world Buddhist leader. From traditional texts to social media. The life story of the Thaye Dorje, His Holiness the 17th Gyalwa Karmapa, spans East and West, just as his activity bridges traditional values and contemporary issues.
Karmapa was born on 6 May 1983 in central Tibet. His parents were the great Nyingma lama Mipham Rinpoche and Dechen Wangmo. As soon as he could speak, he told them he was the Karmapa. The Karmapas are the leaders of the Karma Kagyu lineage of Tibetan Buddhism.
In March 1994, in accordance with the 900-year-old tradition, Thaye Dorje was enthroned as the 17th Karmapa. His Holiness the 14th Kunzig Shamar Rinpoche, the second most senior Karma Kagyu lama, enthroned him. The 14th Shamarpa, Mipham Chokyi Lodro was himself recognized by the 16th Karmapa and His Holiness the Dalai Lama in 1957 and officially enthroned in 1963. Kunzig Shamar Rinpoche passed from this life on 11 June 2014. More on the link
---
Šamar Rinpoče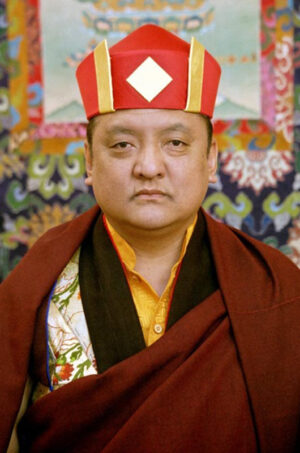 Shamar Rinpoche Mipham Choekyi Lodro (1952-2014) was the 14th Shamarpa or Red Hat Lama of Tibet.
The Karmapa, spiritual head of the Karma Kagyu school of Tibetan Buddhism, and the Shamarpa are considered to be two different manifestations of the one and same awakened being, also referred to in Tibetan as "Karmapa Sha Mar Nag" meaning The Black Hat and Red Hat Karmapas. Hence the responsibility of leading the second oldest school of Tibetan Buddhism rests equally on the Shamarpa. Since the passing away of the 16th Karmapa in 1981, Shamar Rinpoche was the head and principal lineage holder of the Karma Kagyu order of Buddhism.
Education
At the age of 5, Shamar Rinpoche, together with his brother Lama Jigme Rinpoche, were sent by their mother to be with the 16th Karmapa at Tsurphu Monastery, in central Tibet. Rinpoche spent the next 24 years of his life receiving all the transmissions of the Karma Kagyu lineage directly from the 16th Karmapa, thereby maintaining an uninterrupted flow of precious teachings from one lineage holder to another.
Travelling worldwide
Rinpoche went on to give teachings and transmissions at Karma Kagyu centers all over the world. All the while dedicating time and effort toward the development of proper education system for monks in India and Nepal. Rinpoche realized the significance of these institutions for the future of not just Karma Kagyu but Buddhism in general. More on the link

---
Bodhi Path Teachers
---
Visiting Teachers
Source – https://bodhipath.eu/